13 Feb 2021
2021 League 1 fixtures revealed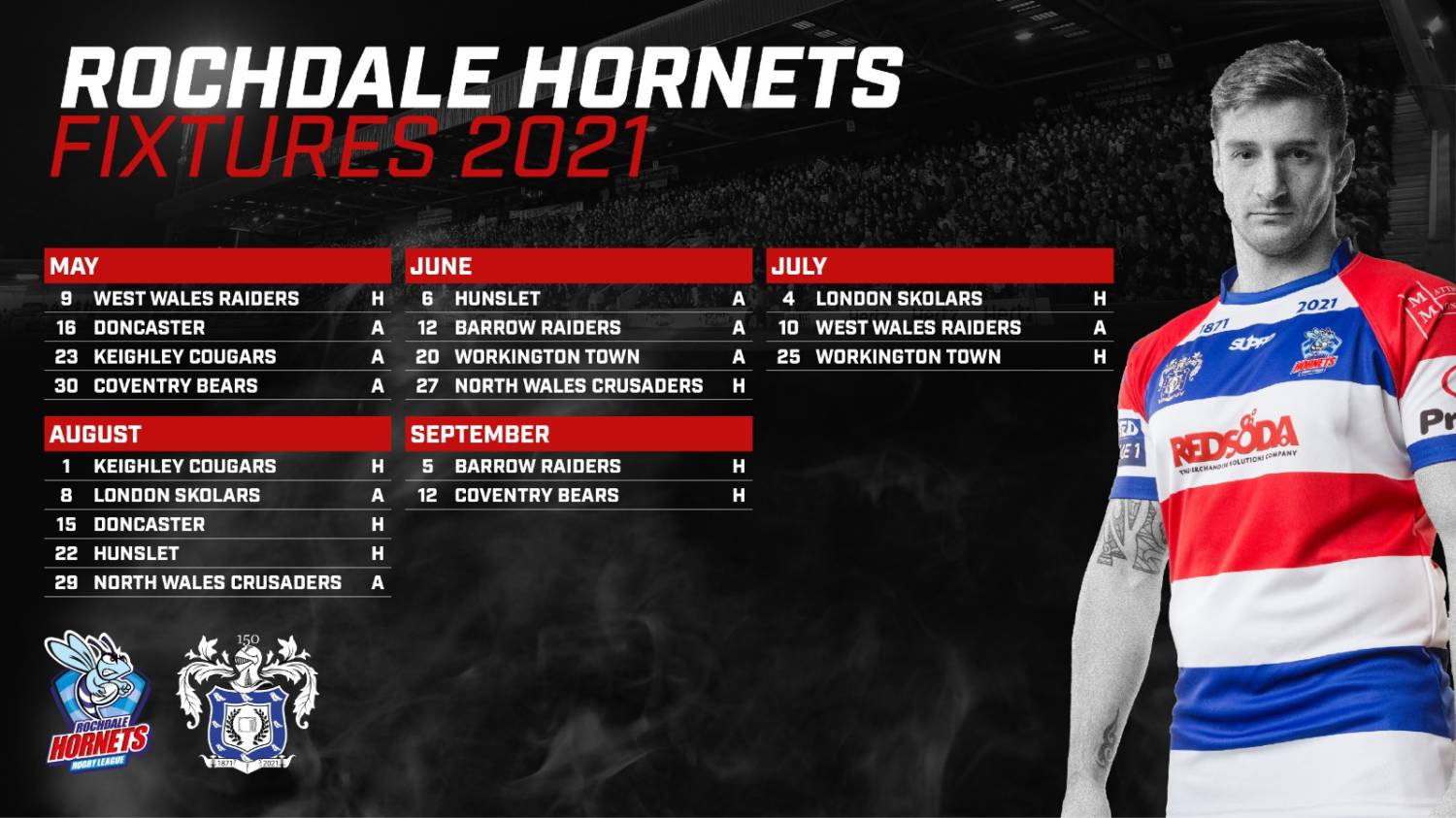 Our 2021 League 1 fixtures have been released!
ROCHDALE Hornets is delighted to reveal our 2021 League 1 fixtures.
There are a total of 18 league games in 2021, with nine home fixtures at the Crown Oil Arena.
The Hornets welcome West Wales Raiders at the Crown Oil Arena in the league opener on Sunday May 9, with a 3:00pm kick-off, with some of the biggest names in Welsh rugby league set to feature, including our very own Gavin Bennion and recent rugby union convert Gavin Henson.
Matt Calland's side are then set for six straight away games as the Crown Oil Arena undergoes pitch maintenance, while this provides greater opportunity for a fans' return to the home ground in late June.
The season concludes on Sunday September 12, with a home fixture to Coventry Bears.
Season tickets, box holders and match sponsorships information will be announced in due course as the club prepares for an exciting year in which it celebrates its 150th anniversary.
"We're really looking forward to the season starting in May," said head coach Calland.
"Pre-season is up and running and all the boys are excited to be back. There is a lot of hard work to be done in training and things are getting real now with the fixtures being released.
"The first tie should be a cracker against West Wales who have recruited some real quality players, and the period of consecutive away games will be a challenge. I am delighted with the squad we have built and can't wait for the first game."
Sean Penkywicz added: "It's that time again where everyone's looking forward to the fixtures coming out and players are planning on when you see your old teams and mates again.
"This year everyone will just be looking at the first game after the year we've had. It's definitely been too long and hopefully we're now over the worst and we can get to keep to these dates as everyone's missed game day and we hope to be back to normal soon."
Full fixtures:
May
9 - West Wales 3:00 (H)
16 - Doncaster 3:00 (A)
23 - Keighley 3:00 (A)
30 - Coventry 3:00 (A)
June
6 - Hunslet 3:00 (A)
12 - Barrow 3:00 (A)
20 - Workington 2:00 (A)
27 - North Wales 3:00 (H)
July
4 - London Skolars 3:00 (H)
10 - West Wales 3:00 (A)
25 - Workington 3:00 (H)
August
1 - Keighley 3:00 (H)
7 - London Skolars 3:30 (A)
15 - Doncaster 3:00 (H)
22 - Hunslet 3:00 (H)
29 North Wales 2:30pm (A)
September
5 - Barrow 3:00pm (H)
12 - Coventry 3:00pm (H)