8 Jun 2020
Coming from the Match by Lowry up for auction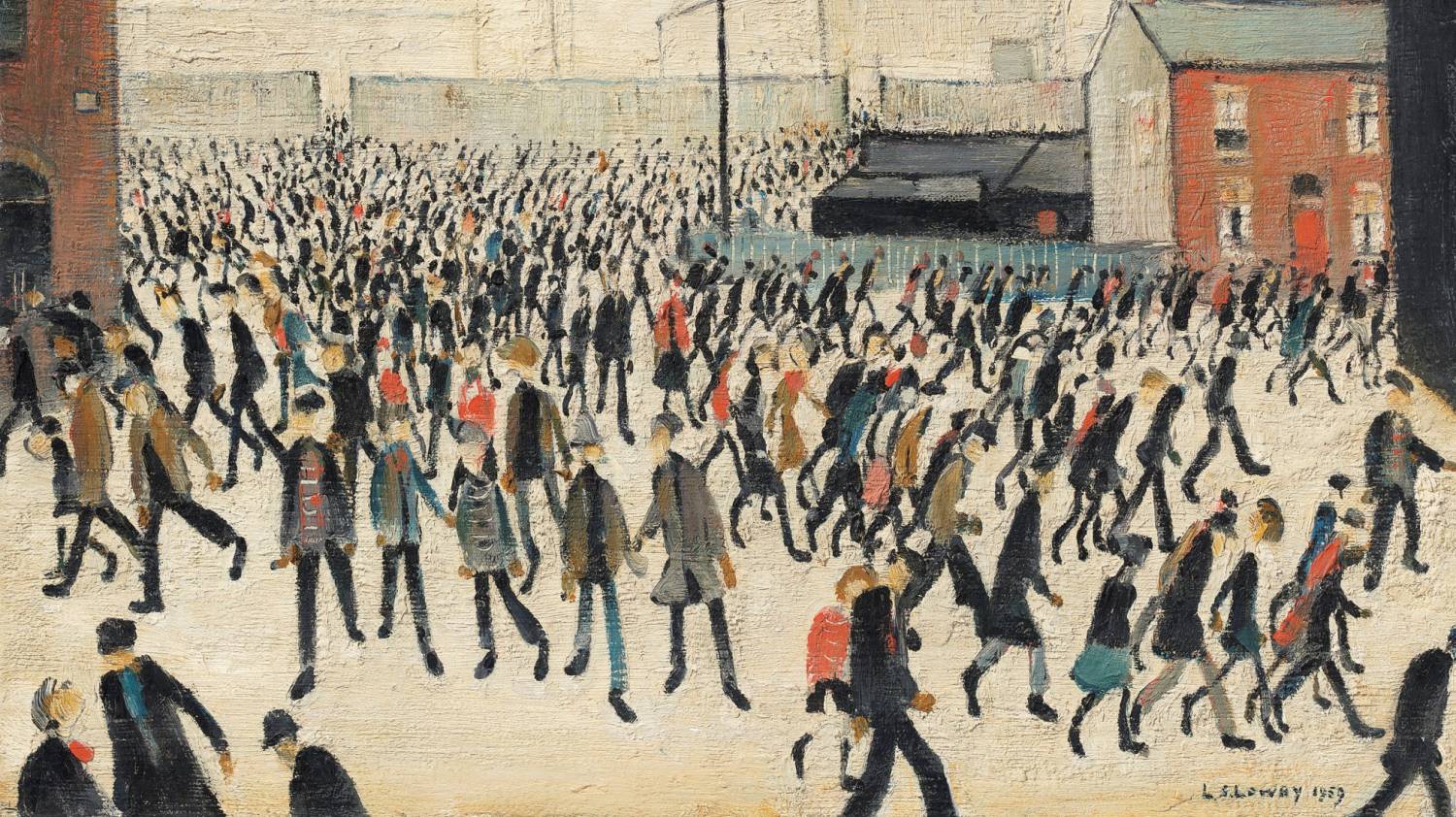 L.S. Lowry's 'Coming from the Match', the only painting of a rugby match Lowry ever created, is up for auction
London – People Watching: The Art of L.S. Lowry, Christie's focused presentation of original works by L. S. Lowry, will showcase an important private collection of 11 key examples that highlight the ongoing fascination the artist had for the characters and scenes he observed around him.
This collection includes examples previously owned by Monty Bloom, Lowry's most enthusiastic patron, and The Reverend Geoffrey Bennett. The online-only sale will be live for bidding from 15 June to 2 July 2020 and comprises 19 paintings and drawings with estimates ranging from £4,000 to £800,000.
A trio of paintings will lead the sale, each underlining an area of interest for the artist. Coming from the Match (1959, estimate: £500,000-800,000, illustrated above) is the only painting of a rugby match Lowry ever created, while Iron Works (1941, estimate: £500,000-800,000) depicts a sprawling industrial landscape in which the River Irwell has flooded its banks and left deep pools of water for Lowry's people to walk around. Offered from a separate private collection, The Elite Fish and Chip Shop (1949, estimate: £500,000-800,000) depicts an orderly queue of would-be diners, eagerly anticipating their supper after a long working day. A classic northern street scene composite from Lowry's post-war period, the artist gives the terraces and backstreets dramatic staging and focuses on a random group of strolling figures, complete with dog and pram, and the bowler-hatted gentlemen who populate his urban landscapes.
As Lowry himself disclosed to the initial buyer of Coming to the Match (1959, estimate:£500,000-800,000), the subject is of a game at the Rochdale Hornets rugby stadium. Familiar motifs of chimneys, electrical wires, and red-bricked factories engross the nondescript and monochrome rugby stadium, identifiable only by the two goal posts peering out from behind the dividing walls. Throngs of utilitarian crowds funnel out of the stadium in varying directions, dominating the foreground of the scene. The rugby match remains an incidental element of the composition, and Lowry instead brings attention to the mass of crowds retreating from the stadium.
To find out more about the auction, which is online from June 15 at Christie's, click HERE