9 Mar 2020
Rochdale Hornets Ladies defeat Manchester University in first game of 2020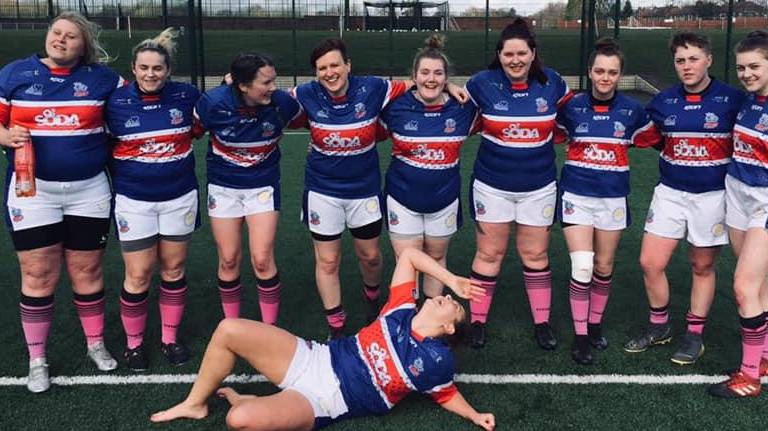 Rochdale Hornets ladies got their year off with a win in the first pre-season test.
In their first run out of the 2020 season, Rochdale Hornets Ladies travelled to play Manchester University in a pre-season friendly.
Hornets fielded a very youthful, untested side with a number of new faces.
Hornets established dominance right from the off with aggressive defence from captains Jo Mullins and Meg Bleakley. This laid a platform for Hornets to attack.
A new half-back pairing of Becky Hughes and Claire Collins ran the show from start to finish, both sharing kicking duties as well as both bagging themselves tries.
Middles; Harriet Jackson, in her first game and playing the full 80, and Sian Godwyn never took a backward step all game going hard down the middle, fed by the nine, Carla Taylor who never put a foot wrong all game.
On one side Lynsey McKernan and Megan Bleakley ran the university girls ragged, Megan running in three tries.
Kate Howard back from a serious injury last season was electric down the other channel, going over twice. On the wings, the Harris sisters Beth and Millie playing together for the first time both bagged a try a piece, with a touch of healthy sibling rivalry there!
In all it was a fantastic day, the game was played tough but in great spirit. The girls were a credit to the club on and off the pitch.
Full time result, Rochdale Hornets Ladies 54-0 Manchester University
There's a great feel around the club at the minute of optimism and excitement and the girls really embodied that today.
I'm looking forward to travelling to Warrington with the girls next week in what will undoubtedly be a tougher test but one were all looking forward to.
Line up:
Beth Harris
Harriet Jackson
Millie Harris
Claire Collins
Becky Hughes
Lynsey McKernan
Jo Mullins
Carla Taylor
Sian Godwyn
Kate Howard
Megan Bleakley
Hollie Dews
Words by Ladies team manager, Ben Bird and head coach David Chrimes.